Product Description
27 inch 16:9 IPS FHD HDR display
HDRi and true sound audio by treVolo deliver immersion
1ms MPRT and FreeSync Premium for smooth gameplay
Explore the Possibilities
Live the game with MOBIUZ EX2710. Exit the routine and expand your reality. EX2710 delivers incredible BenQ proprietary HDRI technology, which optimizes images for improved color, contrast, and detail. More adjustment than regular HDR, and enhancement to the HDR content from your game. True sound audio by treVolo surrounds you with rich music and subtle auditory cues. The best image quality with best audio experience delivers the best enhancement to the immersive experience.
This IPS 144Hz monitor has lightning-fast 1ms MPRT (Moving Picture Response Time) to minimize the blur and artifacts in moving scenarios. The FreeSync™ Premium to eliminate screen tearing artifacts from the image, providing the best image quality and gaming experience in your adventure.
Expanded Immersion
HDRi: Intelligent Optimization
HDRi immersive detail draws you into the game. A discrete sensor detects ambient light levels and assesses then adjusts on-screen HDR images so you see every detail. Customized color performance, detail contrast, and image clarity add intensity.
Intelligent Control
A nearly invisible sensor detects ambient light and on-screen content, then adjusts for the ideal display.
Stunning Clarity
BenQ proprietary HDRi improves image contrast and clarity for greater detail. Dark corners show what they're hiding while bright areas are not overexposed.
Vivid Colors
HDRi takes color to the next level of intensity. Color balance and saturation are adapted for a mind-blowing visual experience.
Exceptional Audio
When entering your adventure you want every detail of sound cues of the virtual worlds provide. While before display audio was a runner up to stellar images, we changed the rules.
EX2710 has two 2.5W speakers and a DSP (Digital Signal Processor) with three customized sound modes. You select the audio setting suited to your scenario. For complete immersion, the DSP and speaker array offer depth, emotion, and intensity like never before.
Hearing is believing.
Game
Cinema
Pop/Live
Superior True Sound by treVolo
The BenQ treVolo experts approach sound design from the perspective of an audiophile. Get full acoustic enjoyment with five sound settings that enable precise treble, rich mid-range, and resounding bass. -- all without the clutter of external speakers.
Designs with Excitements
Equip yourself for adventure. MOBIUZ EX2710 144Hz monitor is action-ready with 1ms MPRT, FreeSync™ Premium, and image optimizers that elevate your gaming excitement. The monitor's bold streamlined design inspires you and your avatar to dream big.
Light Tuner

Light Tuner lets you choose from 20 levels for your favorite effect. Whether you are in the dark cave, or bright desert, you decide how your game looks for your best experience.

Lightning-Fast Responsiveness

144Hz refresh rate provides you the extreme smoothness in your adventure worlds. You can see quickly, and aim accurately to a fast-moving enemies in your favorite FPS. Make your virtual adventure real.

EX2710's 1ms MPRT and 144hz refresh rate makes your fast-paced games display free from artifacts like ghosting or blur

FreeSync Premium

FreeSync technology provides 0 tearing from your fast moving game. Complete your adventure with complete images.
Minimum Ghosting
1ms MPRT results in minimum ghosting on moving picture
Black eQualizer
See Your Enemies in the Dark
Color Vibrance
In-game Adjustments Disclose Foes
Intuitive Control
Scenario Mapping
Pair each of your Quick OSD presets with an input. Simply change your input and your settings automatically adjust.
Quick OSD
Preset Black Equalizer, Volume, and Brightness for different scenarios. Select your OSD settings with ease
5-Way Navigator
Easily access your most-used settings. A joystick in back lets you adjust settings with a flick of your finger.
Gaming in Comfort
EX2710 provides maximum adjustment to your needs, and avoid neck and spine strains during long hours of gaming sessions.
Multiple Connections
Eye-Care for EXtended Play
BenQ's industry-leading eye-care tech reduces eye strain, headaches, and fatigue while improving viewer comfort. See and feel the difference for yourself.
TÜV Rheinland Certification
Global safety authority TÜV Rheinland certifies EX2710 Flicker-Free, and Low Blue Light as truly friendly to the human eye
Brightness Intelligence Plus Technology
BenQ proprietary Brightness Intelligence Plus adjusts brightness and color temperature for an ideal viewing experience. Content gains detail in dark areas with improved clarity and intensity. Headaches, eye strain, and fatigue are history. Your dream of a monitor that adapts to its surroundings just came true.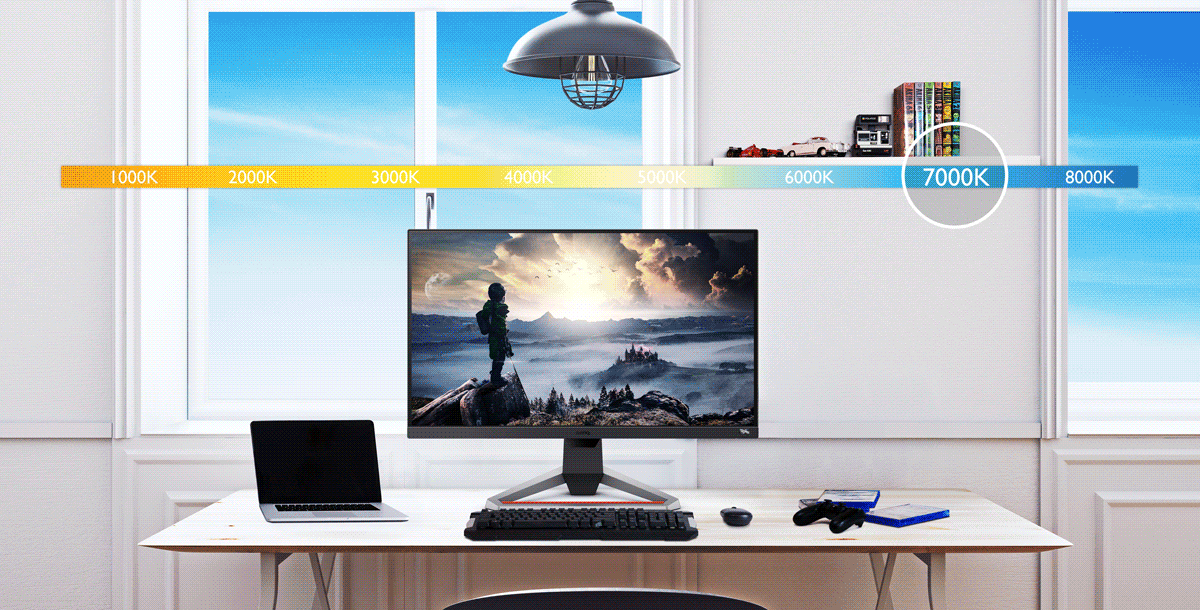 Low Blue Light

Low blue light technology filters harmful blue light to protect eyes of all ages

Flicker-Free™

Flicker-Free™ eliminates screen flickers found in traditional LCD monitors during extended viewing.

ePaper Mode

The eReader display balances text and background to make long reading sessions easy on the eyes.

Color Weakness Mode

Red and green filters help individuals with common types of color vision deficiency distinguish colors more easily.